A beautiful, white smile can help boost your confidence from making first impressions to proudly displaying your teeth in photographs. However teeth become stained, discolored, or dull from food, drinks, tobacco, and simple aging. Drinks such as coffee, tea, and red wine will discolor teeth over time, and foods such as berries and soy sauce can lead to teeth staining. Teeth whitening is a safe, effective way to brighten your smile helping patients appear younger and more vibrant.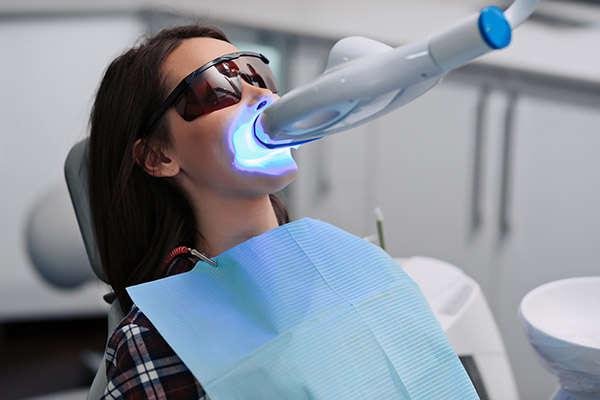 There are a variety of methods available to those who wish to achieve whiter teeth.  There are take-home kits which allow you to whiten your teeth by a few shades in the comfort of your own home and can be effective if monitored properly.  Professional whitening performed by Dr. La and his staff is considered the safest and most effective method, which can help whiten your teeth by several shades.
Teeth whitening done by your dentist can get teeth brighter faster. The bleaching solution is usually much stronger than at-home kits. Also, heat, light, or a combination of the two may be used to speed and intensify the whitening process. Many people are sensitive to whitening solutions and it can cause gum problems. The in home kits often cause sensitivity because it is easy for the bleaching agent to come in contact with the gums. Professional whitening often avoids this problem. The most dramatic results — teeth generally get three to eight shades brighter — usually take several 30- to 60-minute in-office visits
In some cases, porcelain veneers or dental bonding are more appropriate to teeth whitening.  If you are considering teeth whitening, schedule a consultation with Dr. La where you can discuss your various treatment options and choose the one that is best for you.
Contact Arlington Family Dentistry today for more information about Teeth Whitening.