Cosmetic dental bonding refers to restorations made from composite plastic material, similar to porcelain veneers and onlays. The cosmetic bonding requires no outside lab procedure and is built directly onto the tooth structure.  Dental bonding is a fast, effective way to restore teeth that have suffered minor damage.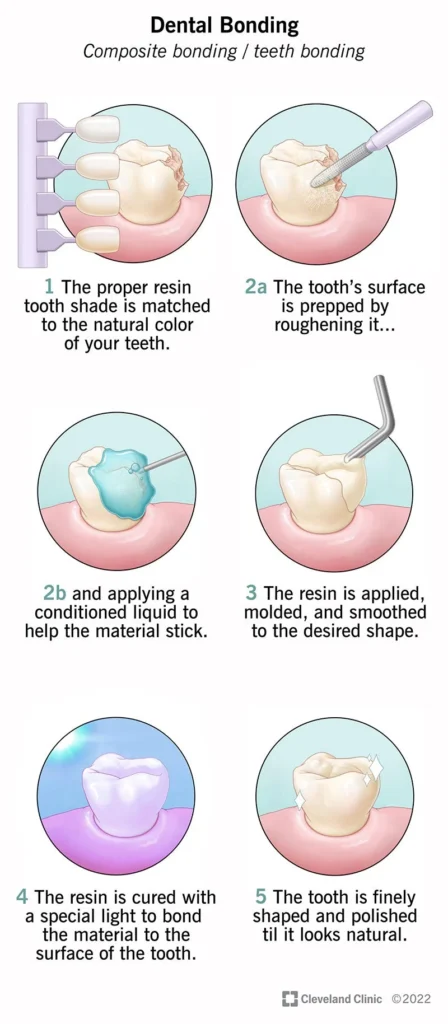 Cosmetic Dental Bonding is durable, tissue compatible, kind to the opposing teeth, and stain resistant. During this treatment, a composite resin is placed on the teeth to repair chips and cracks, or to fill in a tooth that has been damaged by decay.  We are able to make absolutely the thinnest restoration possible using this material. Cosmetic bonding allows us to preserve the greatest amount of natural tooth structure, with minimal or no numbing required. Exquisite natural esthetics are achieved, as well as the light transmitting qualities found in natural teeth. Cosmetic bonding is most often used to close spaces, replace worn enamel, repair broken or chipped teeth, re-shape crooked or misaligned teeth, and to cover permanently stained or discolored teeth. Composite bonding is also used to fill cavities and to replace existing mercury silver fillings.
How long does dental bonding last?
How long bonding materials last depends on several factors, such as your oral habits and how many teeth were treated. Typically, however, bonding material lasts between three and 10 years before needing to be touched up or replaced.
Is bonding good for your teeth?
In general, dental bonding doesn't pose any risks to your oral health. If you have healthy teeth and gums, then it's perfectly safe.
However, if you have extensive tooth decay, gum disease or other serious issues affecting your oral health, you may need to have other treatments before pursuing dental bonding.
Is bonding on teeth permanent?
No. Because dental bonding doesn't require enamel removal, it can be reversed at any time.